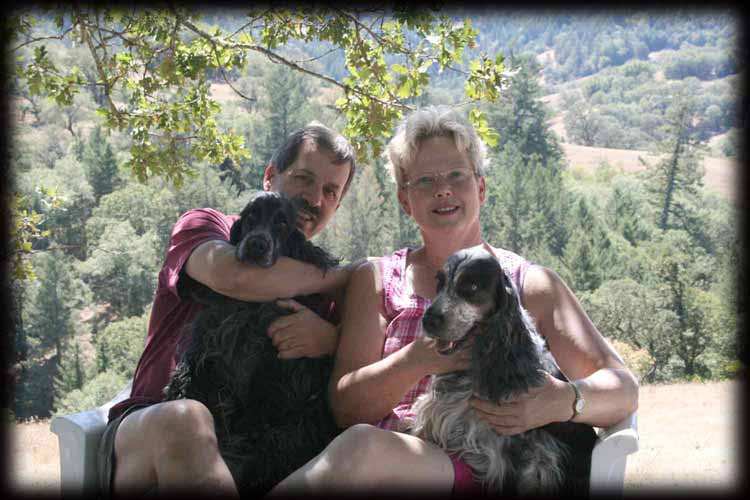 Rick and Deana with Chip and Coz
Rick began his passion for lutherie in 1981 when he began repairing instruments for himself and friends. Before long he could see that he wanted to do much more, even to construct a guitar. So he enrolled in Vermont Instrument Workshop in the fall of 1982 and stayed with instructor George Morris for eight weeks. During that time, he hand crafted two guitars of his design and was even more resolute to become a professional luthier.
He continued working in engineering offices as an industrial designer and later as a consultant. Even though guitar building and repair was kept on a part-time basis during this time, Rick never lost his desire to be a full-time builder.
Finally, in 1994, when he and his wife Deana moved from Sebastopol California, to Willits, about 80 miles north, his dream began to become a reality. After constructing a large shop and office on their 20 acre horse ranch, he was ready to go full time, a choice he has never regretted.
Rick has united his skills and observations as a guitar repairman and his years of design experience with his passion to create guitars. The result of this fusion of skills is a hand-crafted instrument that is a pleasure to play, hear and see. He loves to work closely with his clients to create an instrument that is stirring to them. His goal is to create an instrument that inspires his clients to new levels of performance and creativity.
He and Deana have been married over 49 years.